MSUK DRIFT PRO 2023 – ROUND 1 CADWELL PARK REPORT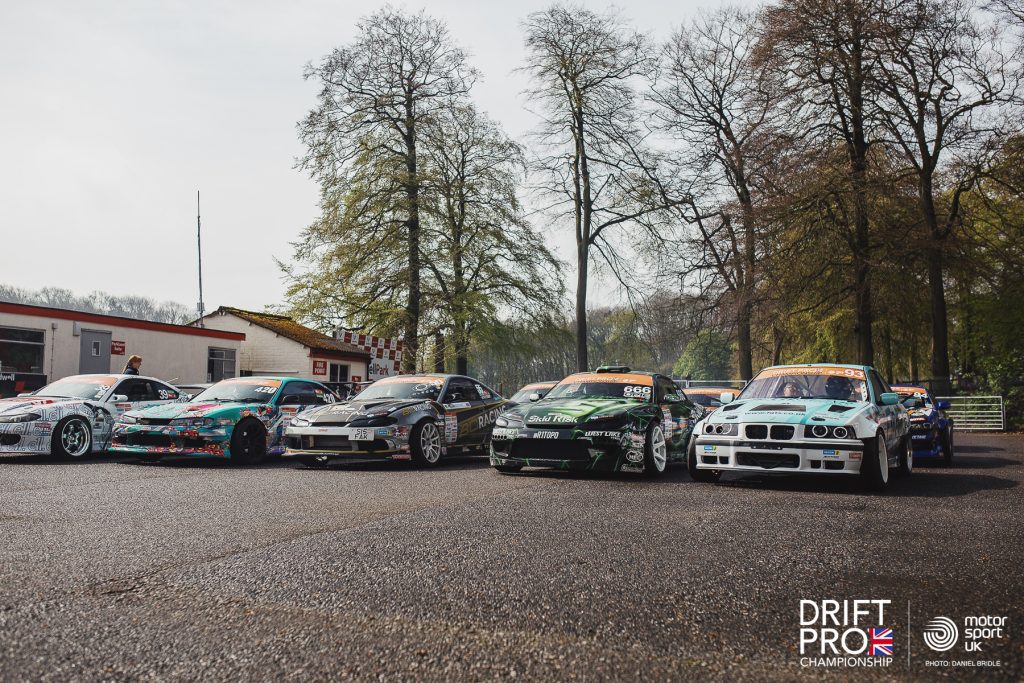 The MSUK Drift Pro Championship kicked off it's 2023 season by returning to Cadwell Park. A firm favourite amongst drivers and spectators alike. This circuit with its many elevation changes, high speed entry, and switchback turns brings a true test of skill for the driver and with some of the closest spectator areas of an MSV track in the UK, an unmissable view of the action.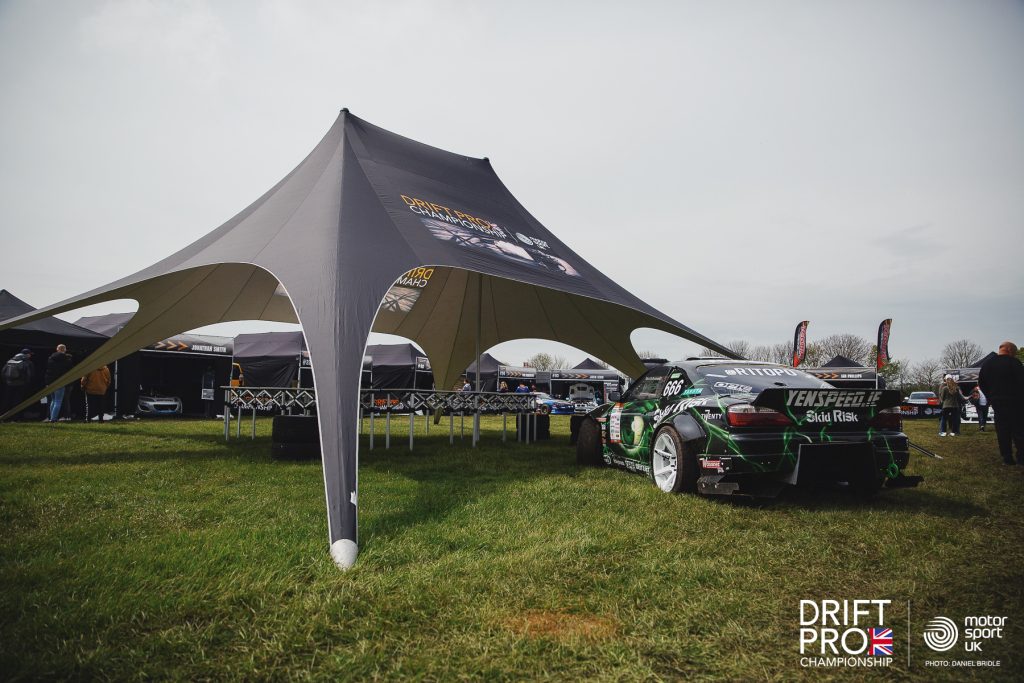 7.00am and the gates to Cadwell Park open as staff, competitors, and spectators roll in. The Drift Pro Hyper Paddock burst into life as competitors fired up their cars up and made last minute checks before heading down to scrutineering where the professional team of MSV scrutineers would ensure all cars are safe and to regulations before hitting the track.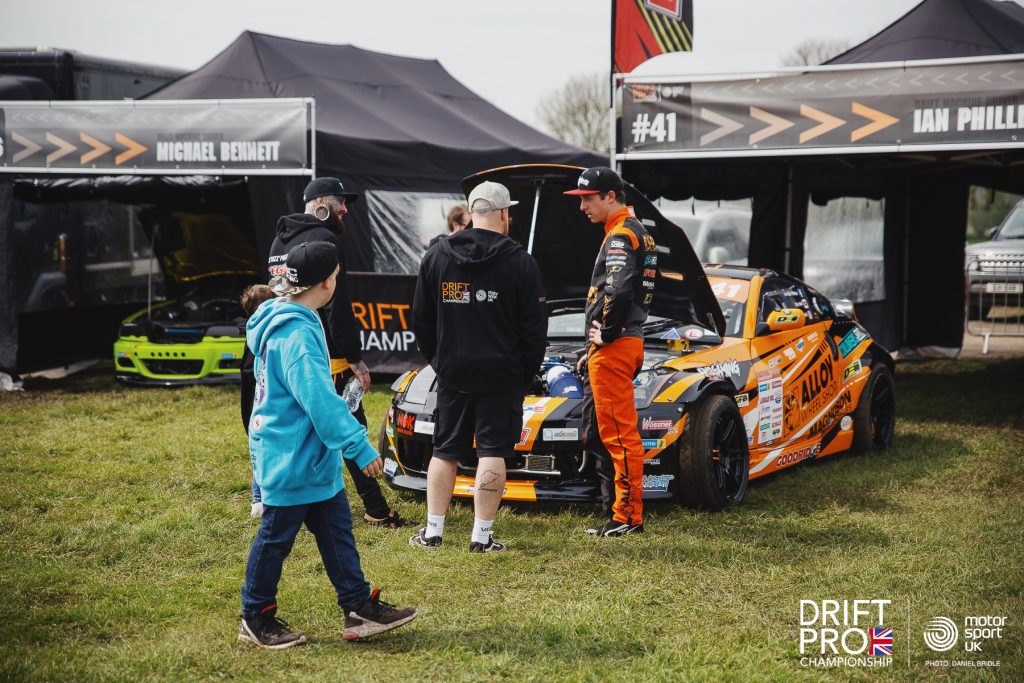 We pride ourselves on having an bespoke paddock area that travels the country with us thanks to our official partners Fifth Gear Transport. This hub acts as an excellent space for drivers to have their own area to park and work on their vehicles as well as offering a unique interactive zone for fans to come and check out the cars up close and meet the drivers between sessions!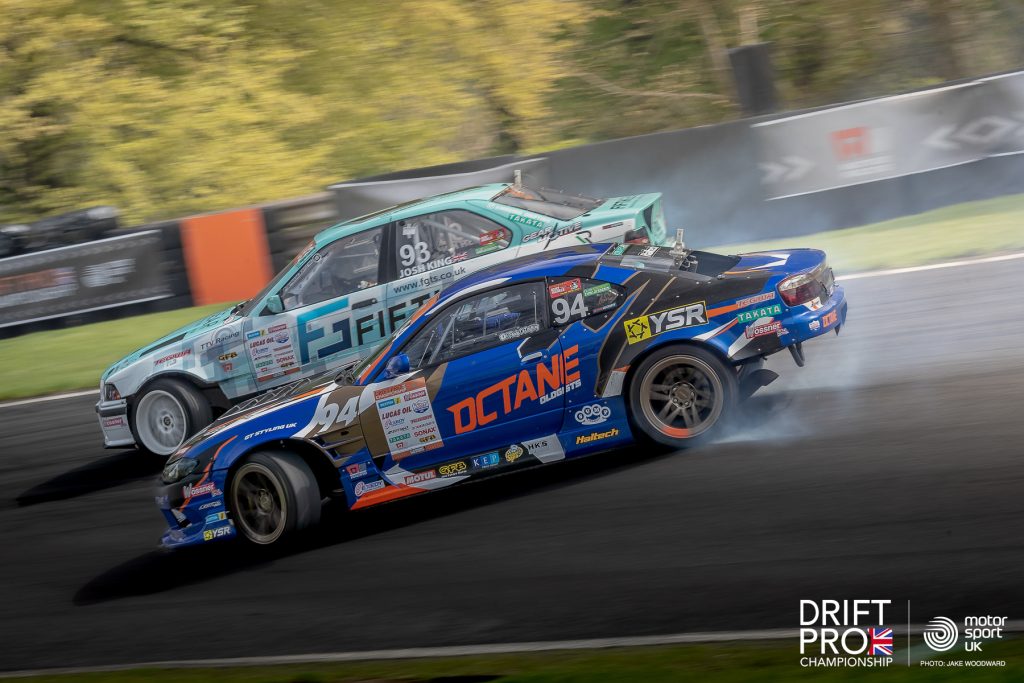 After a briefing with drivers going over the plan for the day and criteria the Drift Pro official judges wanted to see drivers achieve for qualifying, it was time for practice. This 40-minute session is where drivers shakedown their cars and blow off any cobwebs before attempting to nail the perfect qualifying run. With many competitors driving throughout the off season at various demos and practice days it wasn't long before the driving got serious on the track, with many drivers throwing down great laps and practicing tandem runs well in advance of the Top 16 battles.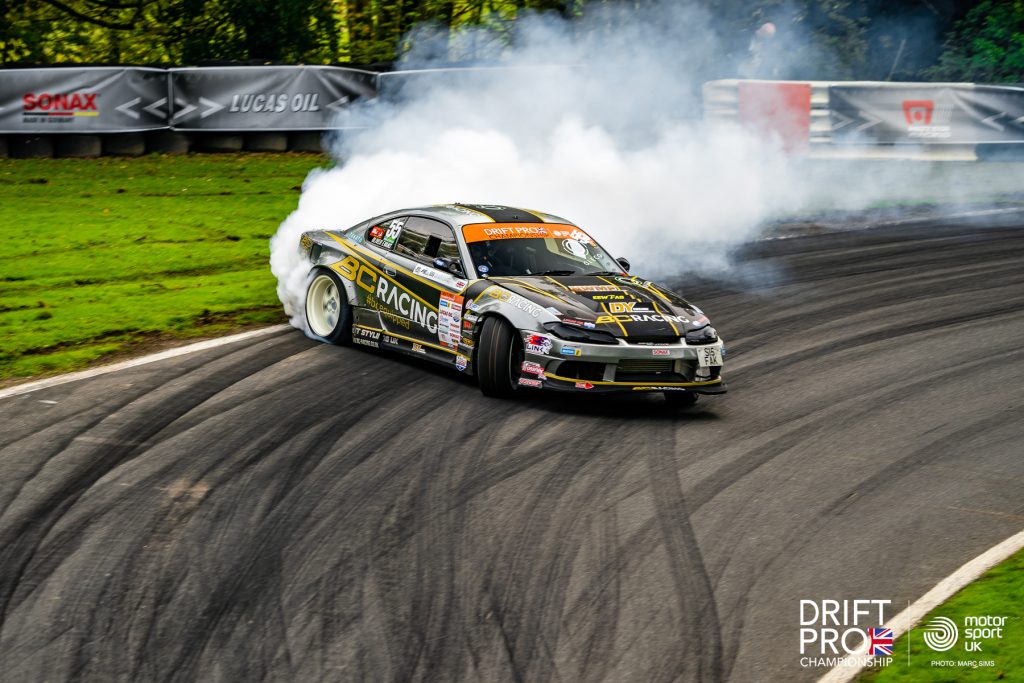 Qualifying was eventful to say the least. 2022 champion Oliver Evans laid down a fantastic 91.33 point run putting him at the top of the leaderboard, with Team Driftworks driver Martin Richards and Octane Distribution's Paul Cunnington following up close behind in the 2nd and 3rd spot.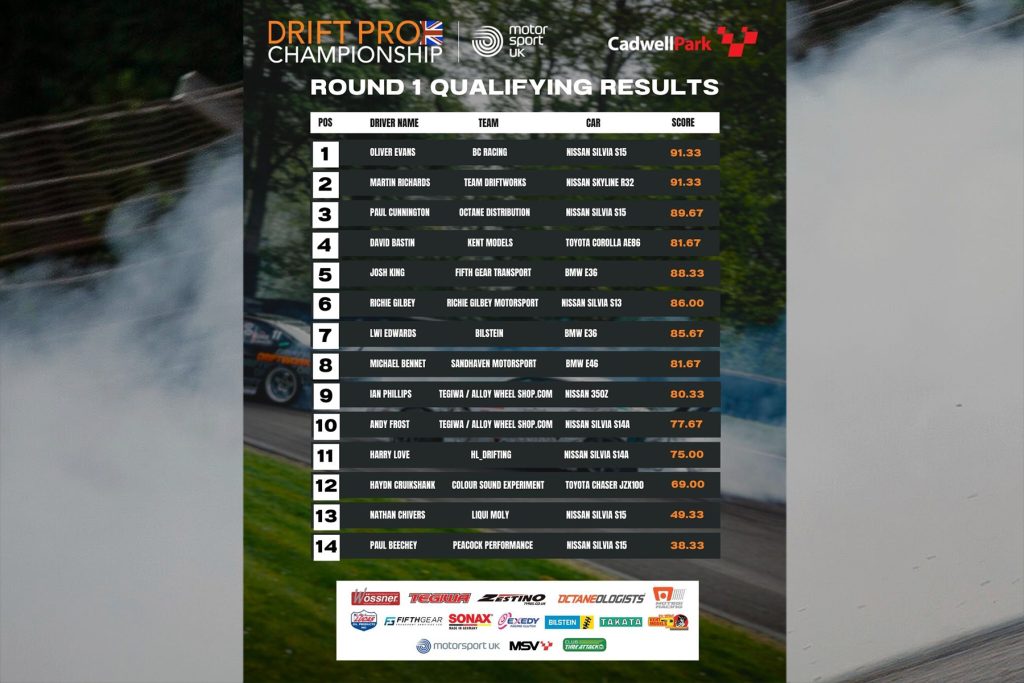 The qualifying session wasn't without it's drama however with a multiple drivers having to retire after practice due to mechanical failures. Axel Hildebrand (broken gearbox), Ryan Toporowski (engine failure) and new entry Joel Conlan (engine failure) were unable to get their cars fixed in time to make the cut.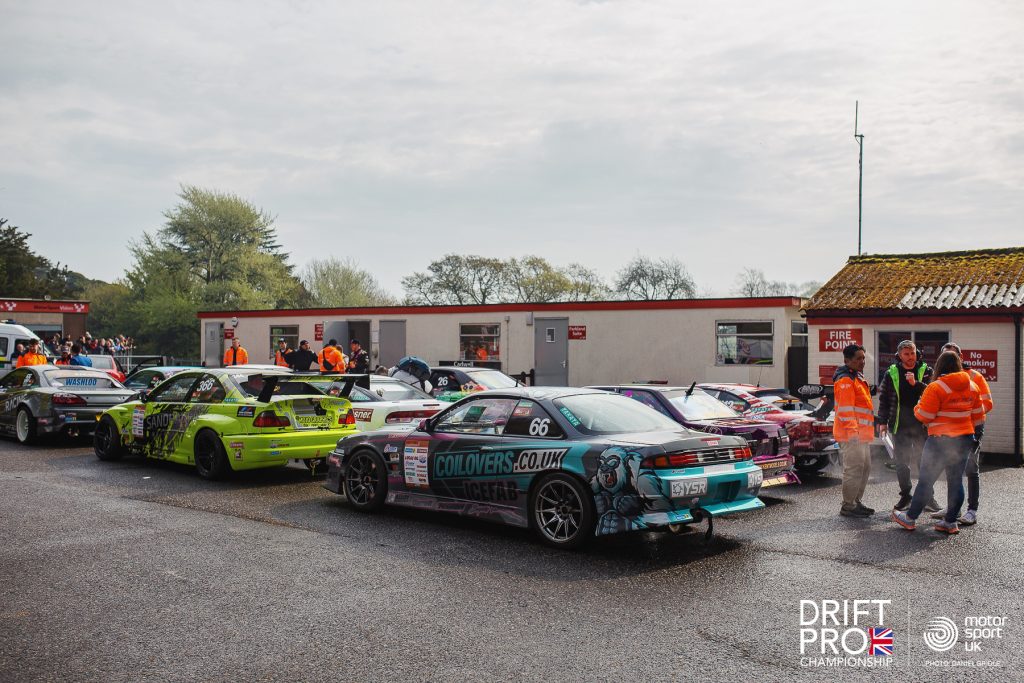 Despite being down on numbers there was still a strong roster of drivers who would no doubt make up the difference with their great driving. It was time for the battles to begin- read on for highlights from the Top 16!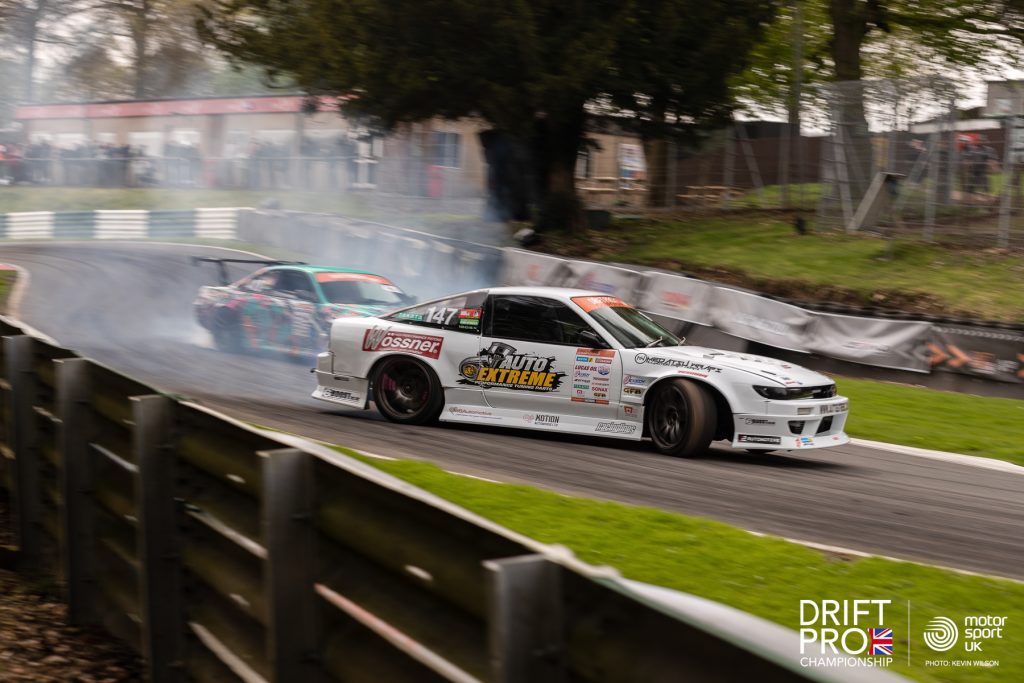 With some serious competitors out of the picture it offered a great chance for the new faces in the series to show what they were made of. Richie Gilbey and Harry Love made their debut battle in style. Despite Richie's phenomenal speed and angle on his chase run the angle brought along some tricky line adjustments allowing Harry to pull away during the remainder of the course gaining the advantage over Richie.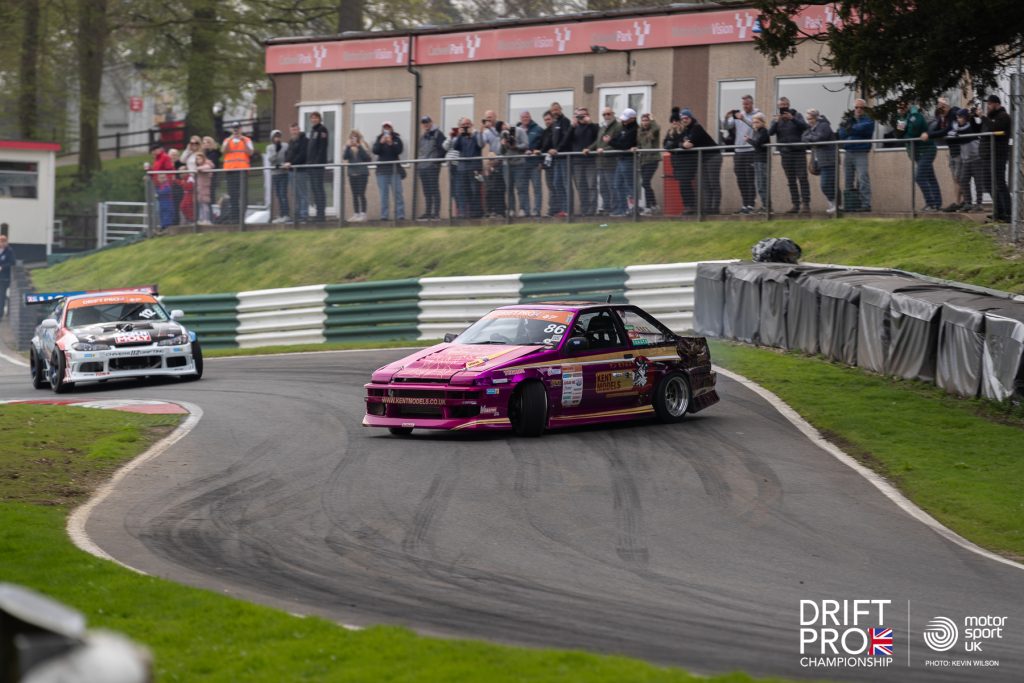 David Bastin and Nathan Chivers faced off. With a huge power difference between Nathan's S15 and David's AE86, the judges knew Dave would have to push hard to stay close. Fortunately the tight twists and turns of Cadwell Park suited David's 86 and driving style well being able to carry a lot of speed through the corners. On the chase run Nathan made a few errors early on creating a big gap between the two allowing David to take the win!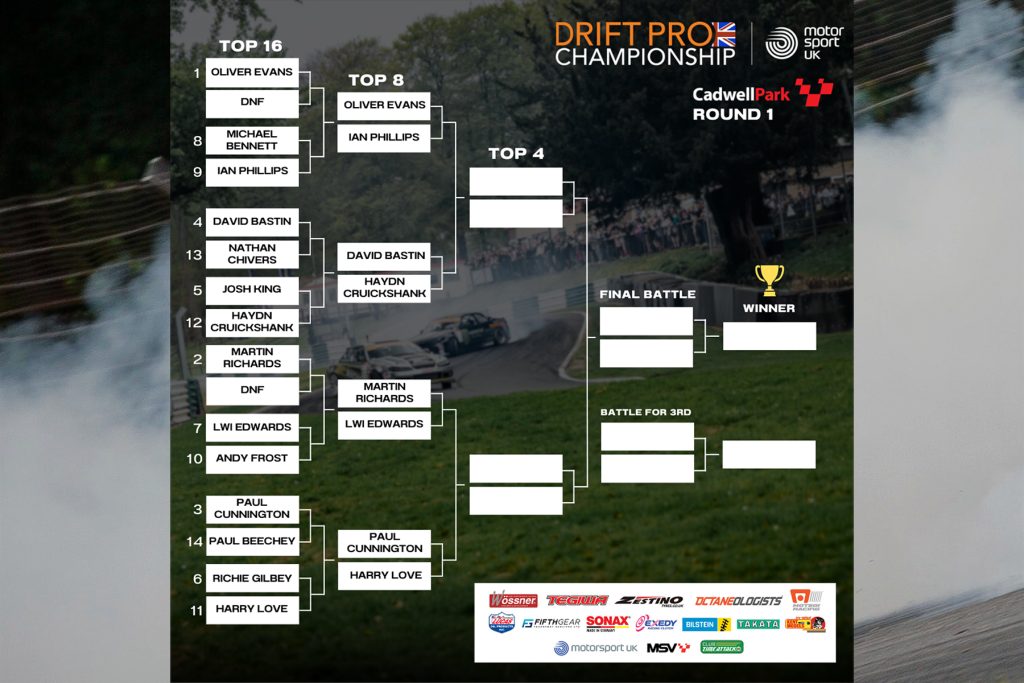 With the Top 16 done and dusted it was time to move onto the Top 8. The line up included some of last years top drivers so the crowds were in for a show!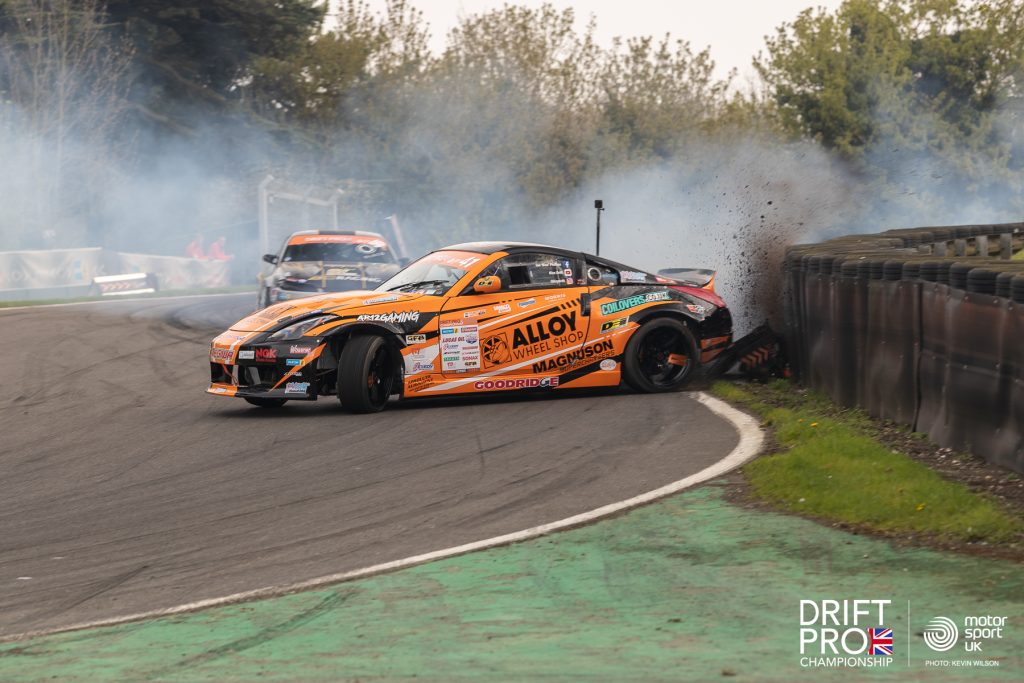 First up was Ian Phillips in the Tegiwa / Alloy Wheel Shop 350Z against top qualifier Oliver Evans in the BC Racing S15. A strong lead run from Oliver had judges wondering if Ian could put the pedal down and make a break away from Oliver's formidable tandem skills. As they hit the first corner it was clear to see Oliver was running into issues, having to shut down his chase run due to a gearbox failure. Despite his rival backing out Ian gave it his all hitting the clipping points (literally) on the full throttle. With Oliver unable to put in a chase run the advantage was given to Ian moving him into the Final 4.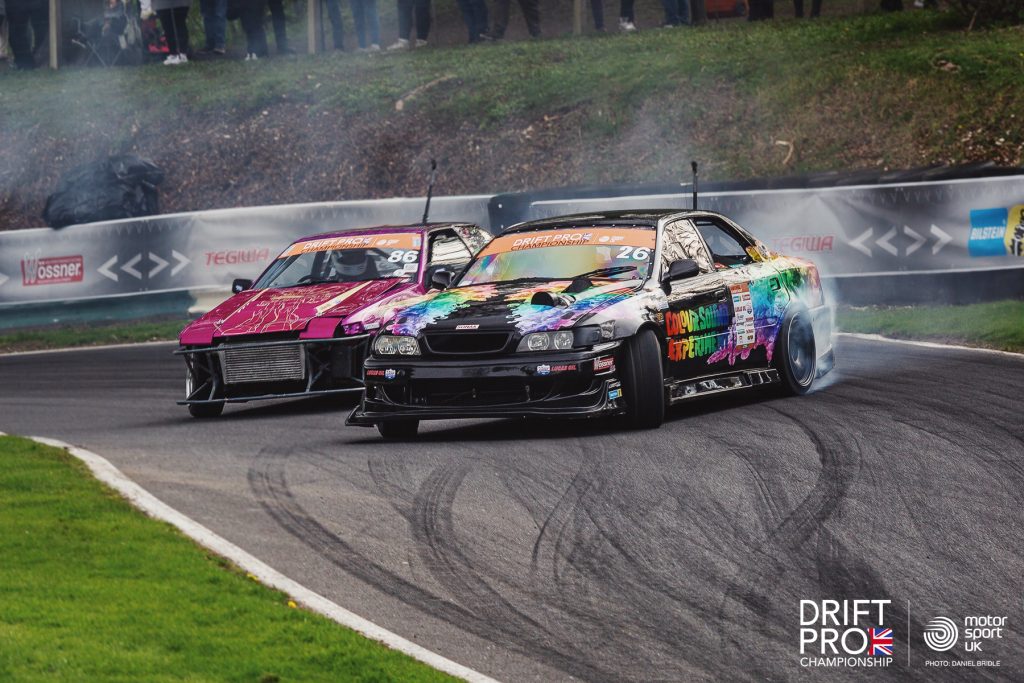 It was the battle of little and large as Haydn Cruickshank and David Bastin went head to head. With 1004 BHP the monstrous supercharged V8 JZX100 piloted by Haydn is an imposing challenge for anyone, let alone one of the least powerful cars on the grid. However due to it's weight and size David was able to stick his AE86 to Haydn's door throughout his chase run, with Haydn unable to create a big enough gap the advantage was given to Dave. Round 1 was quickly becoming David's best showing to date!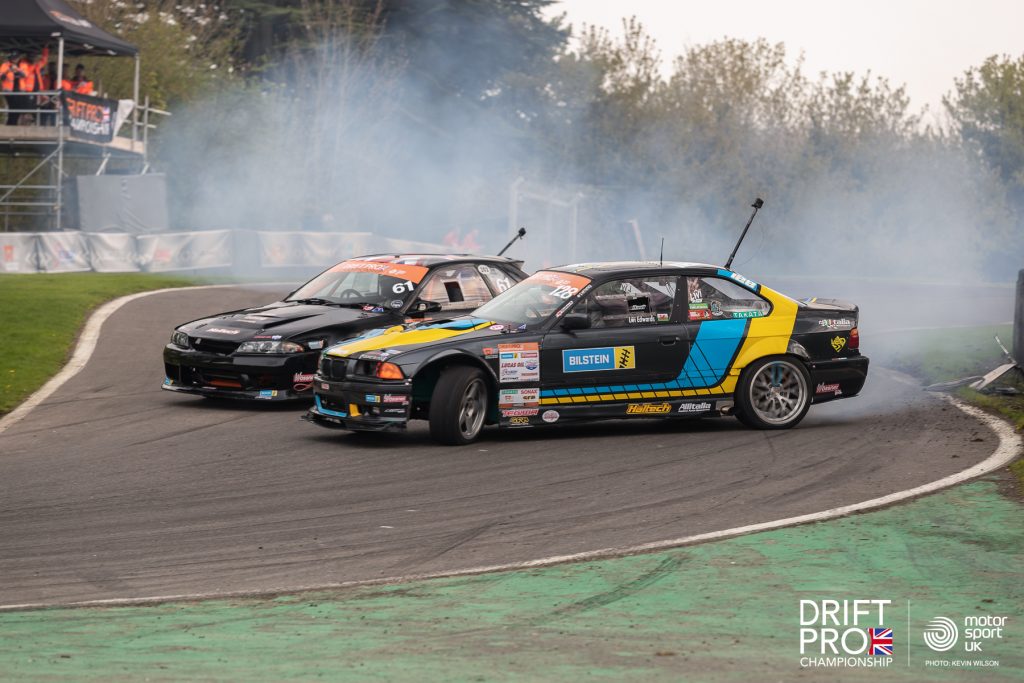 It was 2022 all over again as Lwi Edward's in the Bilstein E36 went up against Martin Richard's Driftworks R32. These two somehow ended up battling each other almost every round last year and it looked like the rivalry would continue into 2023. Both drivers put in a strong showing with but Martin running a perfect lead line run, and Lwi an almost perfect chase. With Lwi putting a slightly weaker lead Martin wasn't given as strong example to chase so the advantage was closely given to Martin moving him onto the Top 4.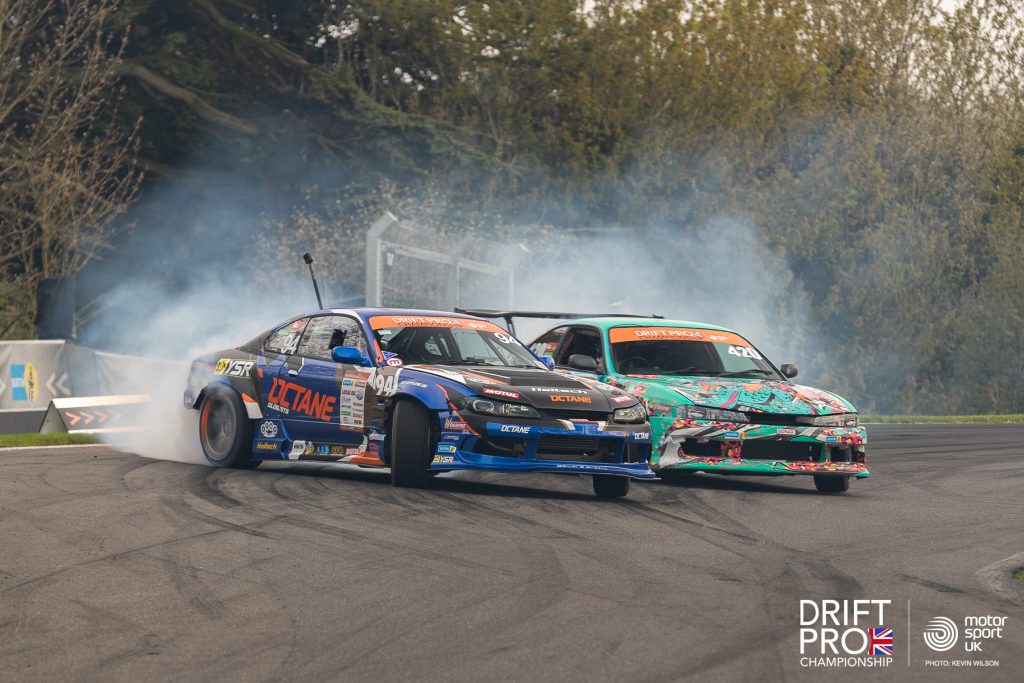 Next up was Paul Cunnington (Octane S15) and Harry Love (S14 Silvia). With multiple podiums under his belt Paul would be a serious challenge for the new and youngest driver on the grid to contend with. Harry put in a great effort but after making consecutive mistakes in front of the judges on both runs with a shallow line and missing clipping zones the win was given to Paul.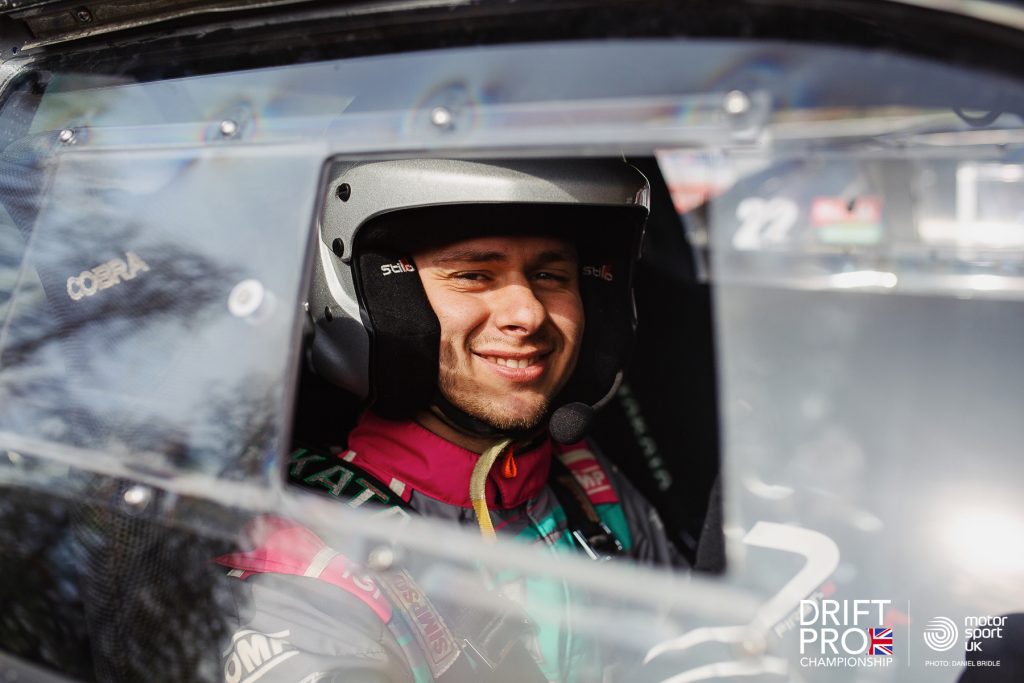 Next up was the Top 4!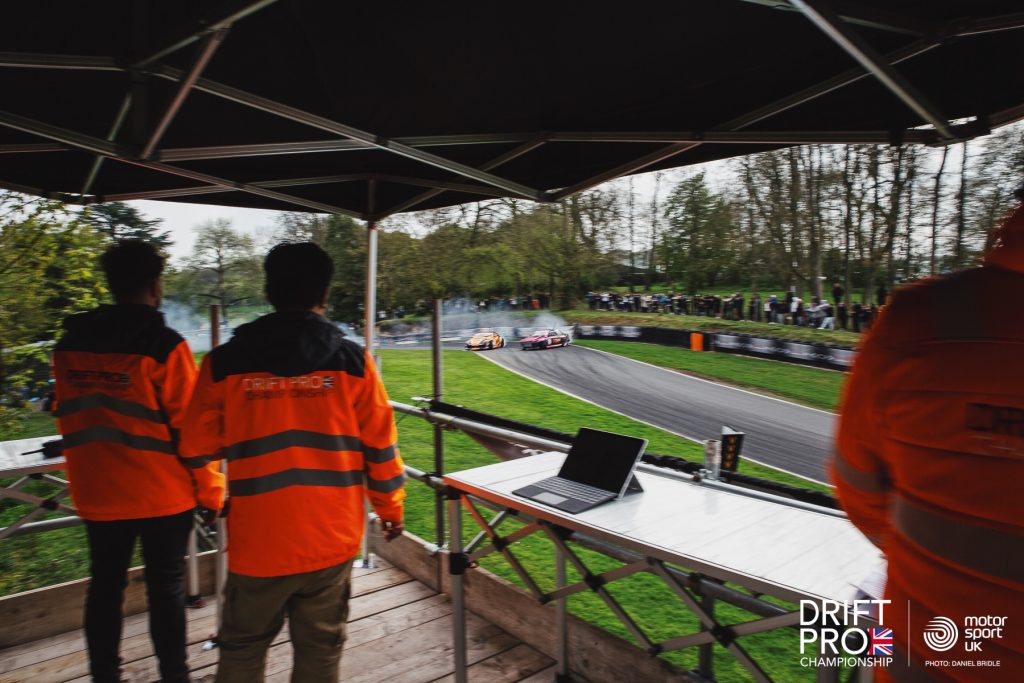 Ian Phillips and David Bastin were first up. Could Dave's winning streak continue against the consistent and clean performance Ian had been putting in all day? It was looking like it might be a possibility as Dave threw his AE86 at the course as fast as he could on his lead run. Sadly he may have flown to close to the sun… As the two switched positions and set off for their final run with Dave chasing, disaster struck and the little AE86 blew it's gearbox. Adding to the ever growing pile of broken gearboxes that Round 1 was collecting, it now meant another driver was out of the running, moving Ian Phillips into the final.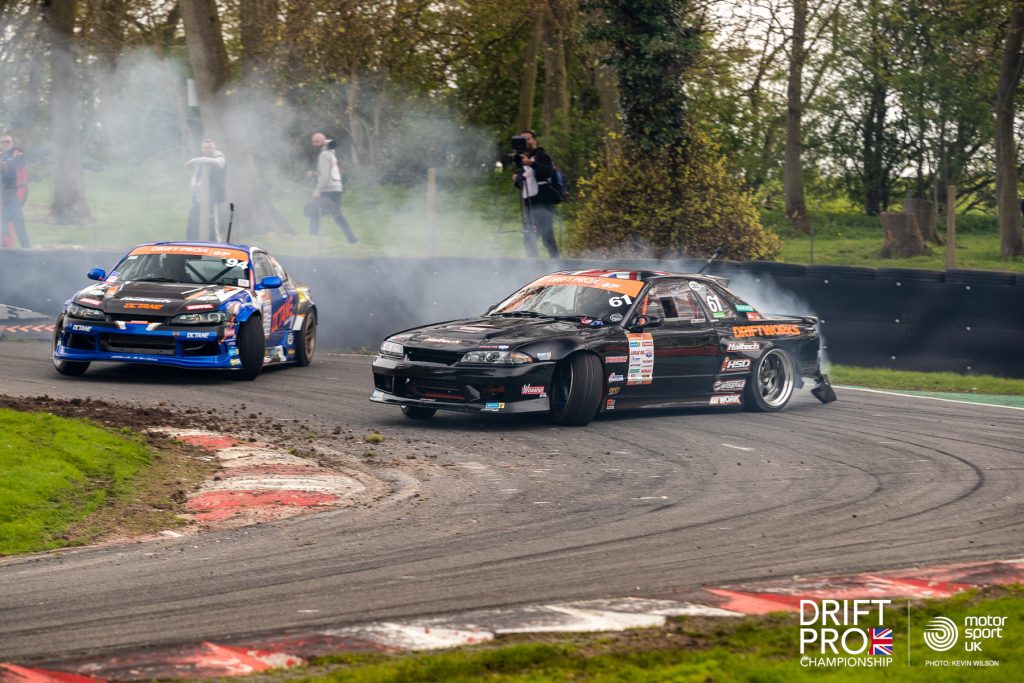 Two of the strongest drivers in the championship Martin Richards and Paul Cunnington were ready to go head-to-head for their chance in the final against Ian Phillips. Both drivers putting in a great run all the way through the course, right up until the final hairpin where just as they were about to reach the end Paul made contact on Martin's left rear wheel. While the impact looked minor from an outside perspective it was hard enough to break the driveshaft and differential on Martin's Skyline. Unable to repair the vehicle in time the two would be unable to run again much to the judges disappointment. A decision had to be made and due to the contact the judges ruled that the advantage would go to Martin.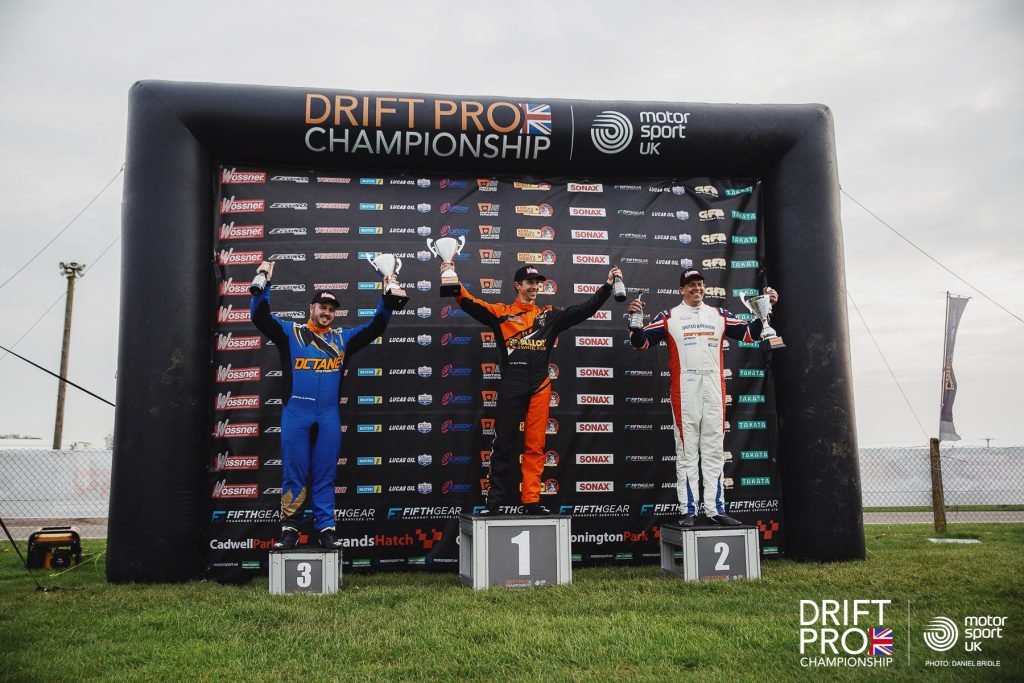 Now the judges were left with a predicament. With Dave Bastin out of the running and Martin unable to continue, it meant the Final wouldn't be able to go ahead. Consequently, Ian Phillips took the top spot on the podium, with Martin Richards 2nd and Paul Cunnington 3rd.
This situation was a first for Drift Pro and as frustrating as it was, the unpredictability of motorsport when drivers and cars are pushed to the very edge, sometimes means the outcome isn't always as expected. Despite the unpredicted conclusion, the event still delivered an incredible display of skill and action.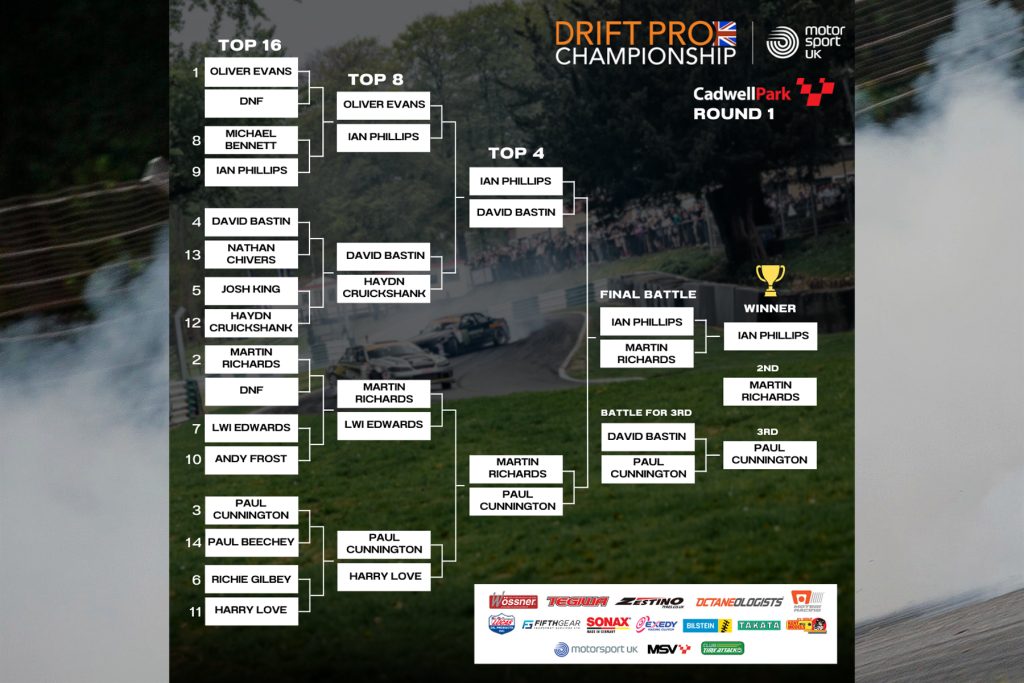 With the huge crowds attending the Modified Live show the following day, they were even more determined to showcase their skills and give their fans a thrilling performance in Round 2. Despite the pressure, our drivers rose to the occasion and worked tirelessly to get their cars back up and running. It was a true testament to their passion and dedication to the sport. And in the end, they didn't disappoint! Stay tuned for our Round 2 event report to relive the excitement!